Extraordinary Stories - Dawn Neuhauser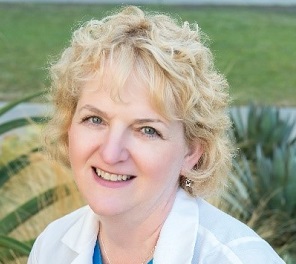 "When we get a call to react to something so monumental, nursing steps up to the call."
 -Dawn Neuhauser, MSN, RN, NEA-BC, OCN®
Dawn Neuhauser, MSN, RN, NEA-BC, OCN®, is executive director of Ambulatory Nursing at City of Hope in Duarte, California. As a nurse leader, Dawn says she is humbled to work with an amazing team of nearly 300 nurses across multiple service lines who pulled together to prepare for and manage the care of patients with cancer during the pandemic. "Working and supporting my team through the pandemic has been a validation for me that when we get a call to react to something so monumental, nursing steps up to the call," she said.
"One of the most difficult things we had to do for patient safety was to implement a major shift in the visitor policy. This goes completely against how we practice as oncology nurses, that is, treating the patient and family as a whole. At City of Hope, we have always maintained a culture of openness. So, we got creative using communications technology, like FaceTime, to support patients and families being together. Additionally, screening helped us focus on who really needed to be in the building to help maintain important patient connections to family."
Dawn describes the initial weeks of the pandemic as filled with long days and stress. Daily huddles and touchpoints with her team have been critical, as well as nurse wellness measures. "The experience of keeping our facility coronavirus-free during the pandemic has given nursing an opportunity to shine, reminding so many of us why we became nurses," Dawn said.